Llangynllo Church told to reopen path after 80 years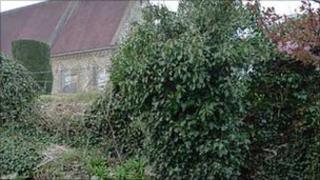 A legal notice has been served on a church ordering the re-opening of a footpath parishioners claim has been closed for more than 80 years.
But Llangynllo Church, near New Quay, Ceredigion, claims the path is home to endangered slow worms, and is currently covered by up to 10ft (3m) of soil.
Ceredigion council said it offered to restore the path in September last year, but its offer "was not taken up".
The Church in Wales said the church had few resources to carry out the work.
Nigel Pugh, who is part of the church's congregation and helps maintain the churchyard, said churchgoers were disappointed.
The footpath, which Mr Pugh claims can no longer be seen, runs through the front of the churchyard.
He said it was also near a 200-year-old Grade II star listed wall.
"The path has been closed for more than 80 years, but we've been given 28 days to comply with the council's legal notice," Mr Pugh said.
Rubble and earth
Ceredigion council disputed Mr Pugh's claims, and said it had received complaints from the public that the path was obstructed.
"A notice has been served under S149 of the Highways Act 1980 calling for work to be done to remove rubble and earth that is obstructing the public footpath," said a council spokesman.
"It should be noted, however, that as part of a wider programme of improving local rights of way, Ceredigion County Council did offer to carry out the works using a volunteer work party. That offer involved at site meeting, held in September 2010, but was not taken up.
"The public footpath is included on the definitive map and statement of public rights of way."
A Church in Wales spokeswoman said it knew there had been some strong opposition locally and it was seeking to find a way forward.
She added: "The small congregation at Llangynllo has little resources to carry out the necessary work and is naturally very concerned at the implications of the council's notice.
"There are some legal and practical issues which need clarification before any work can be carried out and it is hoped that the council will work with the local community to reach an amicable solution without pursuing a legal resolution."