Bronglais Hospital concerns aired at public meeting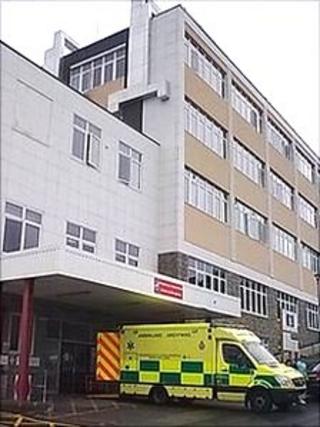 Concerns over the future of Bronglais Hospital in Aberystwyth will be aired at a public meeting on Friday.
Campaigners claim the hospital is losing beds and services are being moved away from mid Wales' only district general.
But Hywel Dda Health Board said the hospital's future was secure.
Final approval was given for a £38m upgrade of Bronglais last week, which is designed to improve care and cut waiting times.
The meeting in Aberystwyth is being chaired by former Ceredigion MP Lord Elystan Morgan.
Dr William Roberts, a retired Aberystwyth GP and spokesman for campaigners The Aber Group, said: "The group is alarmed by the loss of beds at Bronglais Hospital, the slide of services away from Bronglais, the fall in staff morale, and the increasing public concern.
"There is also the constant rejigging of the front of house scheme, when it was agreed by all that the original plan was what was required."
Day care theatres
The hospital upgrade includes two day care theatres, but Dr Roberts said they were unsuitable, adding that this was an example of services being cut at the hospital.
"Day care theatres are where people come for cataract operations and leave the same day," he said.
"They are unsuitable, and for more significant operations hospitals need main theatres."
In a letter, Chris Martin, the chairman of Hywel Dda Health Board, said: "Hywel Dda Health Board has received the excellent news that Welsh Assembly Government has confirmed investment of £38m in Bronglais Hospital's front of house scheme with a further £7.5m ring-fenced for other facilities in Ceredigion to support the hospital.
"This major investment is the biggest capital project in the Hywel Dda Health Board area and should put an end to suggestions of disinvestment, loss of services or the hospital being under threat.
"The future of Bronglais General Hospital is secure and the health board is committed to ongoing investment into hospital and community health care within the county."
Last August, the health board said it was committed to the future of Bronglais after a leaked draft report said it would be downgraded.
The board said the report was out of date and the hospitals would continue to be district generals.