Concerns over £38m plans for Bronglais Hospital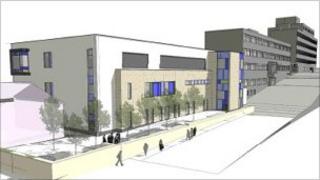 Almost 200 people have attended a public meeting in Aberystwyth to voice concerns about the future of Bronglais hospital.
Hywel Dda Health Board is planning a £38m extension to the hospital, with building work due to start in May.
Campaigners have claimed services are being moved away from mid Wales' only district general hospital.
But the health board said the hospital's future was secure.
Final approval was given for a £38m upgrade of Bronglais, designed to improve care and cut waiting times, last week.
At Friday's meeting, staff drew attention to the diminishing number of beds and lack of investment in operating theatres.
Many speakers, including current and former staff at Bronglais, raised concerns about the health board's plans and called on them to reconsider.
The meeting was chaired by former Ceredigion MP Lord Elystan Morgan.
Afterwards, Lord Morgan told BBC Wales: "On the one hand you have a massive capital expenditure. £38m- it's a lot of money in anybody's language.
"On the other hand, what it does is make up for the lack of investment that has occurred over the years.
"Theatres now are obsolescent to the point that they can no longer deliver their services in safety and, of course, this money now is being paid as compensation for that.
"But at the same time, the inexorable process of running down the number of beds continues.
"You cannot run down the number of beds at the same time as you develop a hospital," Lord Morgan added.
Disinvestment
He said the money should be redeployed to the areas most in need.
The health board's plans for the hospital include a new emergency department, GP out-of-hours services, surgery unit, maternity unit, refurbishing the main theatre suite and providing an integrated blood sciences department to improve turnaround times.
In a letter, Chris Martin, chairman of Hywel Dda Health Board, said: "This major investment is the biggest capital project in the Hywel Dda Health Board area and should put an end to suggestions of disinvestment, loss of services or the hospital being under threat.
"The future of Bronglais General Hospital is secure and the health board is committed to ongoing investment into hospital and community health care within the county."
Last August, the health board said it was committed to the hospital's future after a leaked draft report said it would be downgraded.
The board said the report was out of date and the hospital would continue to be a district general.