Commin's Coch and Storey Arms, Powys fatal road crashes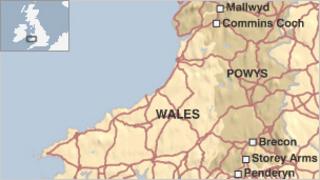 Two people have been killed in separate road crashes in Powys.
A 37-year-old motorcyclist from the Machynlleth area died when his machine was in collision with a car on the A470.
Officers were called to the crash near Cemaes Road between Commin's Coch and Mallwyd at 2210 BST on Saturday.
A 29-year-old woman from Llangammach Wells was killed in a crash between Penderyn and Storey Arms on the A4059 at about 2130 BST.
Officers have not yet revealed how she died but are appealing for witnesses.
Both incidents, 90 miles (144km) apart, are being investigated by the Mid Wales Roads Policing Unit.
Anyone with information should call 101 or Crimestoppers on 0800 555111.