Brecon Jazz: Femi Kuti and Allen Toussaint to headline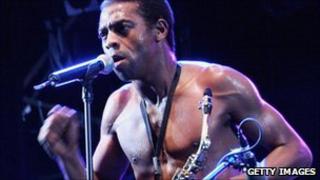 Femi Kuti, Allen Toussaint and Monty Alexander are among the headline acts confirmed for Brecon Jazz 2011.
The festival in the mid Wales market town also includes a one-off gig by former James Brown saxophonist Maceo Parker with the BBC Big Band.
Courtney Pine, John Surman, Clare Teal and Zoe Rahman are among stars from the UK jazz scene appearing this year.
The event, run by organisers of the Hay Festival of Literature and the Arts, takes place from 12 to 14 August.
Launched in 1984, the annual festival features more than 50 concerts at venues around the town, although street music has been cut back in recent years due to licensing restrictions and public order concerns.
Brecon Jazz was rescued by Hay director Peter Florence in 2009 when the previous organising company ran into financial difficulties due to poor weather at the 2008 event.
Full details of Brecon Jazz 2011 are due to be released in May.
Dozens of jazz, blues and rock bands from Wales will also perform in pubs and clubs over the festival weekend as part of the Brecon Fringe.
Meanwhile, jazz fans will continue their drive to raise £100,000 to install a statue of the late George Melly in Brecon.
The colourful singer, who played at the first Brecon Jazz festival, was a founding patron and a keen supporter of the event until his death in 2007.