Elderly befriending scheme in Powys receives £960,000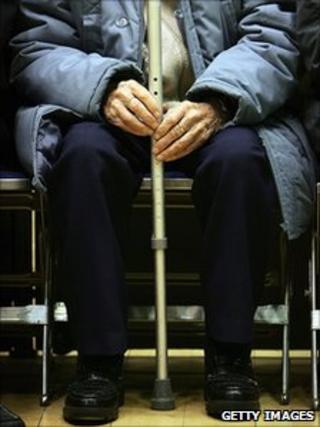 A group has won a £960,000 grant to set up a scheme in mid Wales to befriend older people who live on their own.
Powys Association of Voluntary Organisations (PAVO) has received money from the BIG Lottery fund for its rural friendships project.
Four hundred volunteers will be recruited to befriend 400 older people "to improve their independence".
PAVO's chief executive Carl Cooper said: "This is excellent news for the people and communities of Powys."
"Too often people are admitted to hospitals and residential homes and unable to return home from hospital simply because there is no-one to offer a lending hand."
Rural friendships
PAVO says Powys has a sparse, ageing population with poor access to services and facilities, placing many older people at risk of a loss of independence, isolation and loneliness.
Mr Cooper, the former Bishop of St Davids, said the vast majority of the money would be used to recruit, train and support volunteers working on the five-year programme.
A project co-ordinator will also be recruited to oversee the scheme which is designed to help people aged 50 and over.
Mr Cooper said the rural friendships project built on work PAVO had been doing with Powys Local Health Board to "strengthen services in the community that support people to maintain their independence".
He added: "This new project enables us to help many more people.
"It will also demonstrate that prevention is not only better than cure, it is cheaper as well.
"Admitting people to residential care or having to provide professional support is very expensive."
'Absolute angel'
Caroline Bull from the Ystradgynlais volunteer centre, which helps senior citizens, said befriending older people made a difference.
She said: "We visited a local lady, Elvira, who was 88, visually impaired and had a broken arm after a nasty fall.
"Our volunteer noticed there were letters for medical appointments that she couldn't read, so we helped her make the appointments, made the arrangements for her to have a cataract operation and accompanied her there. If we hadn't been there, she would have been totally isolated".
Elvira described her helper, Judy, as "an absolute angel".
She added: "She came to my rescue. My neighbour used to help me out but then they passed away and then I had my accident, so I couldn't do anything for myself.
"It's life-saving, I can tell you. I don't know how I would do without her. We need this sort of thing badly."