Felin Talgarth Mill opens for first time in 60 years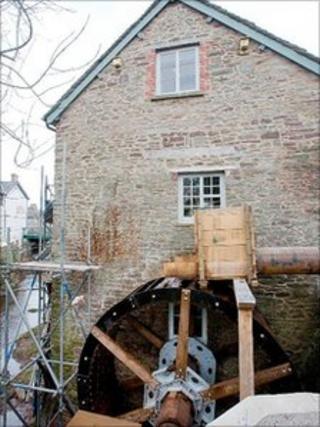 A Grade II-listed mill has opened its doors for the first time in more than 60 years after a major renovation.
Felin Talgarth Mill, near Brecon, Powys, has been refurbished with the help of £750,000 in lottery grants.
The public are being given a sneak preview of the 18th Century flour mill in action before it officially opens later this year.
As part of the project, the mill's cottage has been renovated and a cafe and bakery are also being built.
The full history of the mill is not known, but it is understood that it stopped being used in the 1940s when it had been reduced to producing animal feeds.
But in May 2010 the project won £400,000 when it was announced as one of the six winners of Village SOS, an initiative from the Big Lottery Fund and the BBC to inspire a rural revival.
In November last year, it landed another grant, this time for £350,000, from the Big Lottery Fund's People and Places programme.
This helped fund the second phase of the project to build an eco-café and bakery next to the newly renovated flour mill.
The new mill is expected to create a minimum of six jobs and opportunities for 20 volunteers.
'Long journey'
Helping the project is "village champion" Dr Ann Hillyer, who - as part of the Village SOS scheme - moved into Talgarth last year to use her business skills and experience to support the scheme.
She said: "It's really thrilling to be at this stage and we are very close to the whole construction side of the project being completed.
"It's been a long journey so far and we haven't even started trading yet.
"It's from here on that the promise of this project for the future really becomes clear in Talgarth. A few small businesses are already starting to open up, which is really exciting."
She added: "It's breath-taking to stand inside the mill and marvel at the work which has been done.
"When I first arrived it was just a derelict building and I could only climb up a few broken steps to look at the first floor but you couldn't walk on any of the floorboards."
The mill is opening to celebrate National Mills Weekend.