Man appears over robbery outside Machynlleth Barclays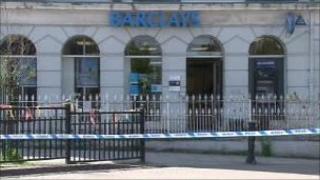 A 24-year-old man from the Birmingham area has appeared before magistrates at Brecon charged with committing robbery at Machynlleth in Powys.
Micquel Daniel France had been arrested in connection with a theft from a private security firm guard at the entrance to Barclays Bank on Thursday.
A large amount of cash was later found in a field on the outskirts of Welshpool.
Police are still hunting for two other suspects, both white men.