Welsh stained glass windows in online catalogue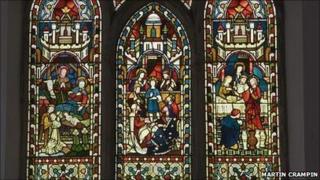 A new online catalogue containing over 5,000 image of stained glass windows in Wales is being launched.
Aberystwyth-based Martin Crampin, from the University of Wales Centre for Advanced Welsh and Celtic Studies, said it was important to document the windows and their makers.
While some were prized and looked after, other examples ended up in skips or were sold as architectural antiques.
Mr Crampin said he hoped the catalogue would show the windows' importance.
He told BBC Radio Wales some of the windows were secure as "some are very, very proud of their windows and look after them".
But he added: "There are Victorian windows which end up in the skip sometimes or otherwise they are sold off by architectural antique dealers when the churches are closed.
"That is something which is of concern, and hopefully this work will help people understand what these windows mean, and how important they are and to keep them in Wales," Mr Crampin added.
He said he gathered together a collection of stained glass pictures after working on another project.
"I was visiting a lot of churches across Wales and I began to accumulate quite an archive of stained glass in Wales, and felt it was worthwhile to showcase them to Wales and the rest of the world,"
While there was a catalogue of medieval glass across Britain, it did not contain much from Wales and the new work is the first time glass in Wales has been documented, he added.
Pretty examples can be found all over Wales, he added.
"It's not just in rural areas but also in some of the south Wales valleys, such as Crynant, where they have fantastic work by a local firm, Celtic Studies from Swansea," he added.
Restoration of the windows is a specialist job and experts are "few and far between", he said but it is still possible to reclaim the "former glory of some glasses which have lost their shine over the years".
Despite their beauty and the cost of creating them, Mr Crampin said stained glass "is not valued in the same way as painting, sculpture and other fine art".
The catalogue is being officially launched in Swansea as part of a one-day forum organised by the Centre for Advanced Welsh and Celtic Studies (CAWCS), and The Welsh School of Architectural Glass at Swansea Metropolitan University.