Ceredigion's Cardi Bach bus service extended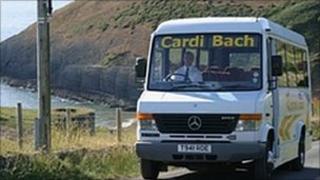 A popular summer bus service is to operate all year round after winning extra funding, but it is unclear when it will start.
The Cardi Bach bus links coastal towns and villages between New Quay and Cardigan in Ceredigion.
The service will be run on demand, but Ceredigion council said it had a number of arrangements to make before it could announce a start date.
Passenger numbers have risen from 1,000 in 2004 to 4,600 last year.
Cardi Bach is popular with walkers and surfers and other visitors to the area.
The new service will run six days a week during the summer and three days in the winter.
'Regretted'
Ceredigion council said: "The council has been seeking to place the Cardi Bach on a more secure financial footing.
"As a result an application was submitted under the rural development plan for the operation of the Cardi Bach from 2011 as an all-year round demand responsive service. This bid has now been approved and additional match funding is being finalised.
"There are a number of arrangements which need to be undertaken (acquisition of a bus, procuring a service provider, etc).
"As matters progress, the council will be in a position to set a start date for the operation of service in 2011 and subsequent years. We know that the Cardi Bach is much valued and this temporary inconvenience is regretted."