Royal Welsh ring improvements aim to prevent mudbath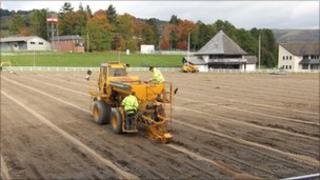 Organisers of the Royal Welsh Show in Powys say improvements to the main ring should prevent the mudbath conditions seen in recent years.
Bad weather in three of the last four shows resulted in a rain-soaked ring.
However, the Llanelwedd show's honorary director, Harry Fetherstonhaugh, said £200,000 of improvements had been made.
Among them is a new drainage system, which increases the drainage rate from 2mm (0.07in) per hour to 150mm (6in) per hour.
However, Mr Fetherstonhaugh told the Royal Welsh Agricultural Society's annual general meeting that the ring would still need to be managed in a more "proactive way".
It may have to be vacated during showers to allow it to drain and avoid surface damage.
Despite last year's weather, more than 230,000 people attended the Powys show ground.
This year it will run from 18-21 July.