Offa's Dyke path's 40th anniversary celebrations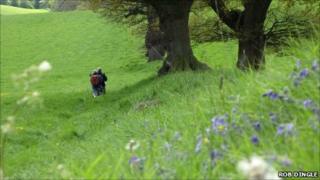 Events are to be held to celebrate the 40th anniversary of one of Britain's most popular walking trails.
The Offa's Dyke path, which stretches along the England-Wales border from the River Severn to the Irish Sea, was officially opened on 10 July 1971.
A number of activities will take place at the Offa's Dyke Centre in Knighton, Powys.
About 3,000 walkers a year complete the 177 mile (285km) trail through what officials call "stunning" landscapes.
Rob Dingle, Offa's Dyke Path national officer, said the whole of the walk normally takes about 12 days, with thousands enjoying smaller circular walks in different parts of the trail.
"Its appeal is simply the landscapes you walk through, from river valleys to uplands and for about 60 miles you're walking alongside the ancient monument," said Mr Dingle.
"The trail takes you through three areas of outstanding natural beauty and the Brecon Beacons National Park
"It's also a trail that sees you cross over between England and Wales, a border that has lasted 1,250 years."
As part of the celebrations 20 disabled ramblers recently circuited Hergest Ridge on the Powys border using motobility scooters called Trampers.
"It was fantastic," said Robin Helby, of Disabled Ramblers, an independent charity set up in 1996 which now has 300 members across the UK.
"That part of the Offa's Dyke path, around seven miles on grass, was absolutely ideal for us to get round.
"The great thing is that there are gates that are accessible to us, and that's the most important thing. Having said that, the parking wasn't very good."
Mr Helby, 69, who was left with spinal injuries 20 years ago after a motorcycle crash, said that the UK's national parks and national trails are, by and large, fully accessible to disabled ramblers.
"There has been fantastic work done on stiles and kissing gates - putting in gates that we can get through," he explained.
"There's no excuse any more for stiles. There are perfectly good gates that can be used. It's not just us, lots of people find it hard to get over stiles."
'Very helpful'
Mr Helby, from Guildford in Surrey, said rambling in Wales was more difficult than in many parts of the UK because of the steep terrain.
"We can be defeated by nature, but where there's a national trail they are very helpful," he said.
The group is planning a number of rambles in Wales next year, said Mr Helby, in order to continue to open up the countryside.
"We have to go there to show the need for disabled access," said Mr Helby. "It helps to put pressure on authorities to change gates where they are not accessible."
Nina Davies, Powys council's rights of way improvement plan officer, who accompanied the group on the ramble, said she planned to put the knowledge she picked up from it to good use.
"I aim to work in partnership with disabled people to continue our good work opening up, and promoting, the Powys countryside for people of all abilities," she said.
Among the events lined up for Sunday are a fayre and craft market at the Offa's Dyke Centre, a fancy dress competition, sheep-shearing, ferret races, craft demonstrations and music and food stalls.
Walkers from the north and the south of the trail will be met at the centre by the High Sheriff of Powys, Col John Brunt.