Newtown man Tommy Morgan 'attacked over money grudge'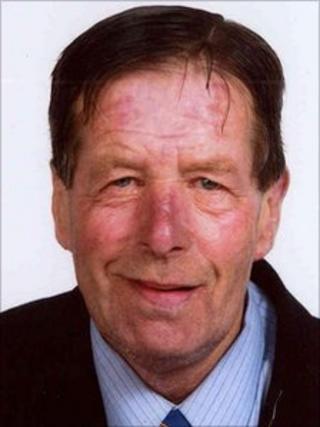 A man attacked his best friend, who later died, over "a pathetic grudge" over money, a jury has heard.
Mold Crown Court was told that Christopher Joseph Cluskey, 57, had admitted inflicting grievous bodily harm on Thomas Morgan, 63, at his home in the Maesyrhandir area of Newtown, Powys.
But he denies inflicting grievous bodily harm with intent.
Mr Morgan was found dead in his bed on 10 January.
Prosecuting barrister Simon Mills said Mr Cluskey, also of Maesyrhandir, "saw red" and was responsible for a severe assault on Mr Morgan, known as Tommy.
Mr Mills told the court: "This is not a murder or manslaughter trial. Mr Morgan died from a brain haemorrhage and it is simply not possible to say that it resulted from the defendant's assault upon him."
On Sunday 9 January, or a day very close to it, Mr Cluskey had subjected Mr Morgan to repeated blows, the jury heard.
Mr Morgan, a vulnerable man not in a position to defend himself, suffered bruising and cuts to the head and face, together with broken ribs.
"The prosecution says this assault was deliberate and came from a grudge held by the defendant against Mr Morgan because the defendant claims he was owned money by Mr Morgan," said Mr Mills.
"He didn't just punch him once - he punched him a number of times and all Mr Morgan did was to plead with him to stop."
'Blame'
On the evening of 10 January, Mr Cluskey, known as Tiger, went to his mother's house and asked her: "What do you do when you find somebody dead?", the jury heard.
He told her that he had walked into Tommy Morgan's home and found him dead, adding "I suppose I'll have the blame".
The court heard Mr Cluskey told her that he had hit Mr Morgan the night before because he had gone into the Shuttle public house and the barman asked him for £27, saying Tommy had said Tiger would pay for his slate.
Mr Mills told the court that Tommy did not have a slate at the Shuttle but Mr Cluskey said that he had been to his home and given him a couple of punches.
Mr Cluskey's mother called an ambulance and paramedics found that Mr Morgan had been dead for some time.
Mr Mills said that the following day a carer had heard the defendant say that he had been to Mr Morgan's house to give him a thrashing before going back to the pub to finish his pint.
Mr Cluskey was arrested on suspicion of murder that day when officers tracked him down to the Exchange Public House.
He said he knew "this was coming" and was abusive to the police. On the way to the police station he said that Tommy was his best mate, the court heard.
'A few slaps'
At the custody desk, he said that he "had found the man last night" but should not have reported it.
The court also heard that, while being observed in his cell he remarked: "I've done that man a f…… favour, write that down. And he still owes me money."
A post mortem examination showed that Mr Morgan had bruising to the brain, four broken ribs and bruising to his head, face and both arms.
Home Office pathologist Stephen Leadbeatter found that the cause of death was acute left sided subdural haematoma, or bruising.
When interviewed, Mr Cluskey said: "I didn't even mean to hurt the man…just like a warning to leave me alone. I'm always borrowing him money and he's always after my fags.
"I just got fed up and so I gave him a few slaps - nothing like to murder him, no way."
When told the results of the post mortem examination, he said he did not think his blows had been strong enough to cause rib fractures.
Mr Mills told the jury: "The prosecution does not have to prove that the defendant intended to kill Tommy or cause him life threatening injuries, but that he intended to cause really serious injury.
"Why else hit this vulnerable, defenceless and seated, small, weak man so many times about the face and body?"
Mr Mills told the court Mr Cluskey was not being truthful about the power of his blows.
"The evidence in this case is consistent with him having caused the rib fractures and other injuries with the intention to cause injuries like that," he said.
"He did so because of this pathetic grudge he held and that he "saw red" once he had gone around to the house.
"This was not spur of the moment, single blow violence but a severe assault by a man who meant it."
The trial continues.