Gideon Koppel to be Aberystwyth University professor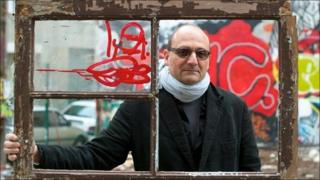 A film-maker whose documentary about a rural community's fight for survival won international acclaim is to lecture at Aberystwyth University.
Gideon Koppel has been appointed professor of film.
His documentary Sleep Furiously beat a number of big budget releases to the Guardian First Film Award for 2009.
It told the story of the rapidly changing village of Trefeurig in Ceredigion where he was raised after his family fled from Nazi Germany.
Koppel will join the university's Department of Theatre, Film and Television Studies in September.
He will focus on documentary film making at undergraduate and postgraduate levels.
Acting head of the department Dr Jamie Medhurst said: "Gideon brings with him a wealth of experience and amazing insight to the film industry and the film making process specifically."
Koppel, who is also an associate fellow of Green Templeton College at Oxford University, is also an award-winning director of film commercials.
He said: "I'm thoroughly looking forward this new challenge and especially to working with the next generation of film makers in Wales.
"Aberystwyth University has a very well-established and reputable Theatre Film and Television Studies Department and I am delighted to becoming a part of it."