Royal Welsh Show: Duke of Kent meets sheep breeders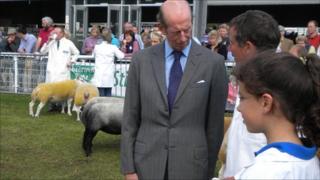 The Duke of Kent has chatted to sheep breeders and inspected cattle during his visit to the Royal Welsh Show.
The duke looked on as beef cattle taking part in the prestigious FitzHugh championship were judged.
Earlier he opened the all nations sheep shearing championship, and went on to meet members of the Wales Young Farmers' Club.
The duke also inspected the Welsh Cob stallions, a highlight of the four-day event in Llanelwedd, Powys.
Thousands of people poured into the showground to catch a glimpse of the magnificent horses in the main ring.
Meanwhile, Paul Tippets from Shropshire won the supreme beef champion with his British Limousin.
Elsewhere at the show, a multi million-pound scheme promoting Welsh lamb in the UK, France, Italy and Germany has been announced.
Red meat promotion agency Hybu Cig Cymru (HCC) will spend £3.5m over the next three years.
HCC will contribute half the money, with the remainder coming from a European Union fund to promote agricultural products.
The qualities which have led to Welsh lamb being granted Protected Geographical Indication (PGI) status would be at the forefront of the project, said the HCC.
PGI status covers agricultural products and foodstuffs closely linked to the geographical area.
HCC chairman Dai Davies said: "This is excellent news, and the additional promotional work that we can now do on behalf of PGI Welsh lamb can only reap benefits for farmers and processors here in Wales.
"It is hoped that by creating extra awareness of PGI Welsh lamb among retailers and consumers, additional demand will be generated which will boost business opportunities for processing companies in Wales."
Gwilym Jones, a member of European Agriculture Commissioner Dacian Ciolos's cabinet, was at the show to confirm the funding for the project.
Agriculture Minister Alun Davies said: "Welsh Lamb has long been heralded as the best in the world and I am delighted that the funding from the EU will help Hybu Cig Cymru show the rest of the Europe just how good Welsh lamb is."
The money will be used to market Welsh lamb, and there will be a public relations campaign in the four countries.
Latest target
It will also enable the HCC to attend international business shows and help finance trade missions by European retailers into Wales and by Welsh processors into Europe.
On Monday, the HCC said Canada was being lined up as the latest target for Welsh lamb exports, which are currently worth more than £111m to the UK economy.
Meanwhile, the Countryside Council for Wales, which is marking its 20th anniversary, will stage an event celebrating natures reserves.