Lord Elis-Thomas in Vyrnwy estate sale inquiry call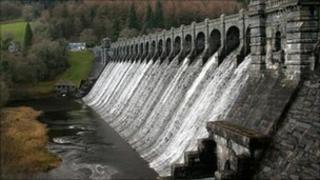 A senior Welsh assembly member wants an inquiry into the sale of a huge estate around Lake Vyrnwy in Powys.
Lord Elis-Thomas, chair of the assembly's environment and sustainablity committee, said there was "substantial public interest".
Utilities firm Severn Trent earlier announced it had chosen its preferred buyer for the estate and would identify the buyer after consultation.
United Utilities would not comment on claims it was the buyer.
Bids were submitted for the 23,000-acre (93 sq km) beauty spot last year.
The only known bidders were north Wales businessman Rhys Jones, and the RSPB and Mid Wales Housing.
The estate with a 125-year lease, valued at £11m, has a conservation area, nature reserve, sites of special scientific interest and several farms.
The estate, near the village of Llanwddyn in Montgomeryshire, has been described as the largest land sale in living memory in England and Wales, by the selling agents Knight Frank.
The lots include 12,000 acres of farmland and 5,000 acres of forestry.
On Thursday morning Severn Trent said it would confirm the preferred buyer's identity after a three-month consultation process.
A spokeswoman said: "After careful consideration Severn Trent Water has chosen its preferred bidder.
"We are now making preparations to begin the three-month consultation with the Countryside Council for Wales after which we will be able to confirm the identity of the buyer."
In an email to committee members, Lord Elis-Thomas, the Plaid Cymru AM for Dwyfor Meirionnydd who was the assembly's presiding officer for 12 years, said he anticipated "substantial public interest in this issue".
Lord Elis-Thomas said he he was seeking an inquiry "because it's such a large disposal of such a sensitive environment".
'Massive asset'
He did not think the local community had been consulted effectively about the potential change in the way the estate is managed.
He added: "So this can't just be about the transfer of such a massive asset on market terms between two utility companies.
"There has to be a situation in which the public interest is protected and the democratic interest is heard."
The estate was for sale on a 125-year lease and was being sold in four lots. Several meeting have been held with its tenants and other residents since news broke of its sale in July last year.
Last November, a survey of residents placed the creation of local jobs as the top priority for a new owner.
Powys county councillor Simon Baynes, who represents Llanwddyn, a village near Lake Vyrnwy, said Llanwddyn Community Council would hold a public meeting on 25 July to discuss the sale.
"We do not know at this stage whether United Utilities will be able to attend, but the meeting will follow the seven previous public meetings that have been held over the last year about the sale of the Lake Vyrnwy estate and will provide a forum for the community to discuss their views about the future."
Local MP Glyn Davies, writing on Facebook, said: "Almost everyone from the local area is going to be really let down. They all wanted it to go to a private sector buyer named Rhys Jones".
A spokesman for Mr Jones said he had spent a considerable amount of time and cost in assembling the bid and was "clearly disappointed" at the outcome.
Mr Jones said: "I thank everyone who has supported me particularly the local people and the community.
"Wales is very important to me and I wanted to invest near where I was brought up as I believe it deserves future economic prosperity. I will leave others to consider matters and I wish the local people well."
According to its website, United Utilities provides water and waste water services to nearly 7m people in the north west of England supplying 3.2m households and more than 400,000 business premises.