Blinded policeman Arthur Rowlands 'no regrets' over job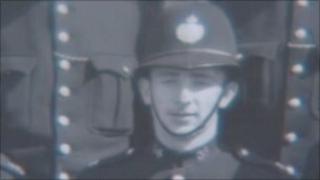 A former policeman in Powys who was blinded 50 years ago while on duty say he would still encourage others to sign up for a life in uniform.
Arthur Rowlands was a 39-year-old Pc in Machynlleth when he was shot in the face by burglar Robert Boynton in 1961.
Boynton died in a hospital for the criminally insane in 1994 while serving a 32-year sentence.
Mr Rowlands, who returned to work for the police after he recovered, said he bears no bitterness towards Boynton.
Now 89, the retired policeman was the father of two young children when his life was changed forever one night in August 1961.
He spotted Boynton in the shadows at 03:00 BST and confronted him.
Mr Rowlands said: "That person said to me 'you shouldn't have come - I'm gonna kill you' - I will always remember those words.
"I never thought that he would fire the gun, but he did, and that's how I lost my sight."
Mr Rowlands said he can remember "everything" about the incident but overcame his bitterness towards Boynton years ago.
He said he was often asked if he would recommend a policeman's lot to other people.
He said: "I would encourage them to join the police. We need to help people to live as well as they can."
Mr Rowlands said he followed the case last year of Pc David Rathband, who was shot and blinded by gunman Raoul Moat in Northumberland in July 2010.
He said all police officers know the risk they face when they sign up for the job.
"I joined the force to do the job. You are there to find the guilty people who carry out those atrocious things."
Like Pc Rathband, who has vowed to return to work despite his disability, Mr Rowlands recovered to live a full and active life with his late wife Olive, son Gareth and daughter Carol.
He worked as a voluntary police switchboard operator and gave talks in local schools about having a guide dog.
In 1980, Welsh-speaker Mr Rowlands was invested into the Gorsedd of Bards at the National Eisteddfod in Machynlleth.