Phone box turned into art gallery in Llanfrynach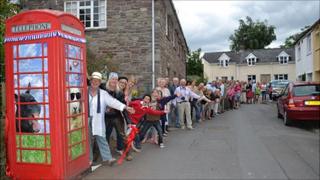 A disused village phone box in Powys has been turned into a temporary art gallery.
The traditional red kiosk in Llanfrynach, near Brecon, was bought by the village council from BT for £1.
Artists Nigel Evans and Karin Mear's exhibition reflects the demise of the red phone box, and people's reliance on mobile technology.
On display, for the rest of August, are large pop-art-style images of sheep, pigs and donkeys.
Both Ms Mear and Mr Evans were previously freelance graphic artists working in London, and they are originally from Aberdare.
Many communities are keen to preserve red kiosks, and BT has encouraged communities to adopt those that have been decommissioned.
Mr Evans, 52, said he had placed photographs of sheep, pigs and donkeys inside and on the phone box.
"We work a lot in digital images of animals such as pigs, sheep and donkeys. It's a form of pop art," he said.
"We are filling every pane of the phone box with images to symbolise the demise of the red phone box.
"Everybody's got a mobile phone now, so we are all like sheep being herded into using these phones."
Mr Evans said the exhibition was interactive and visitors could leave written messages inside the phone box.
In March, BT said almost a quarter of public phone kiosks in Wales were being used to make less than one call a month, but the firm said it had no immediate plans to wield the axe.
Public phone use has dramatically fallen in the past couple of years, with only 3% of adults saying they had used a BT payphone.
At the same time, mobile phone ownership has soared to around 90% of adults.