Knighton celebrates railway's arrival 150 years ago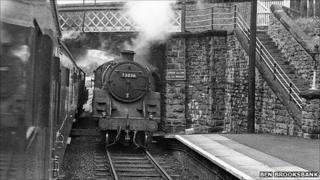 A plaque has been unveiled to mark the 150th anniversary of the arrival of the railway in the Powys town of Knighton.
A 22-mile section of the Heart of Wales line from Craven Arms, Shropshire, to Knighton was built in 1861.
The line, which runs through mid and south west Wales, is regarded as one of the UK's most picturesque routes.
"Knighton was a very busy station at a time when roads were in their infancy," recalled former employee Terry Powell, 92.
As with other towns and villages in the UK, the railway had a huge impact on the border town.
Work had started on the 120-mile (193km) line in 1839 and by 1865 it connected northern England and ports in south Wales.
Knighton station was built in 1865, and it remained busy until roads became the preferred form of transport.
The station employed about 25 people in the 1940s, when there were six passenger trains a day in both directions and a freight train every 24 hours.
Today just four trains a day travel in each direction, and its supporters argue it is under used.
Mr Powell worked in the booking office at Knighton station in the 1940s, when the roads network was "in its infancy" and "nearly everything went by train".
As well as passenger services there were freight, goods, mail and livestock trains coming through Knighton, he said.
Every September there were four sheep sales attracting farmers from far and wide.
"At the end of the day the sheep would be herded down to the station and we'd have 50 wagons full travelling all over the country," Mr Powell said.
"Knighton was a very busy station at a time when roads were in their infancy and nearly everything went by train.
"Eventually, it became more popular to deliver good by roads and Knighton station, because it was in a rural area I suppose, started to suffer."
In the 1960s the Heart of Wales line came under threat from the Beeching review, the UK government's attempt to reduce the cost of running the railways. But a campaign saved the line.
Passing loops
David Edwards of the Heart of Wales Line forum said the route was "sadly under-utilised".
There are plans to increase the number of trains on the line, but to provide one extra service would cost £800,000, he said.
A £5m project to upgrade a rural railway linking Wales with England was completed last year.
Five passing loops were reinstated along the line at Knighton, Llandrindod Wells and Llanwrtyd Wells in Powys, and at Llandovery and Llandeilo in Carmarthenshire.