Brecon Jazz fringe plays for George Melly sculpture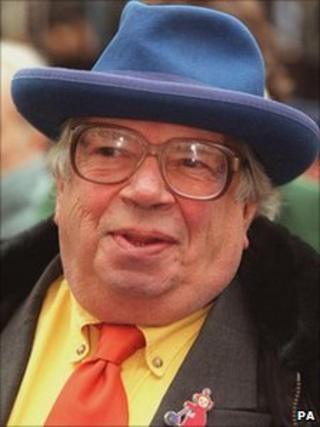 Brecon Jazz Festival opens on Thursday with a concert in aid of the George Melly Sculpture Appeal.
Part of the 'fringe', it will feature Dylan Thomas poems set to jazz music.
The appeal has already raised £32,000 of the £100,000 needed to pay for the statue to honour the late musician who is credited for putting 'Brecon Jazz' on the international map.
Three benches, unveiled last year, was the winning entry in a competition to find a fitting memorial.
"We are very hopeful of reaching our target particularly now that people have seen the designs," said David Brockwell, who is responsible for the fundraising.
"The winning entry by Bruce Williams was chosen from 46 sculptors who had entered the competition from around the world."
The three benches designs are as "individual and colourful" as the man himself, and also link to George Melly's love of surrealist art, Mr Brockwell added.
George Melly, who died aged 80 in 2007, was asked to "cut the ribbon" at the first Brecon jazz event because he had a home nearby.
Sing for free
Instead he offered to sing, and when organisers told there was no money to pay for him offered to sing for free, which helped to put the festival on the international map, said Mr Brockwell.
"The memorial is partly about George but equally about Brecon jazz, which was first set up in 1984 as a community event," he said.
Despite the current financial situation Mr Brockwell said he was confident there was something for all pockets in this year's event.
Many of the fringe events, in particular, will be free, he said.
"We are also putting on music on the green, outside the church, to bring back the community feel of the event," he said.
'Beautiful town'
The placing of the three benches at a site known as the 'promenade' near the river is also seen as "putting something back" into the community.
"This area was used for courtship, in the old fashioned way, people going for a walk, sitting on the benches, but it has fallen into under-use and these benches will be practical as well as beautiful," he said.
The fringe is putting on a 'Gypsy Jazz' event on Monday to raise funds for the appeal.
Gypsy jazz was developed by European gypsies between the two world wars, said Mr Brockwell.
"Between the two events (the festival and fringe) there will be between 15,000 to20,000 people in the town over the weekend," he added.
"It's a beautiful town and we hope that people will stay here to get to know it better.
"Our message is come to Brecon, and if you can come a day early and stay a day later," he added.