Rare Silurian moth sighted in Brecon park 35 years on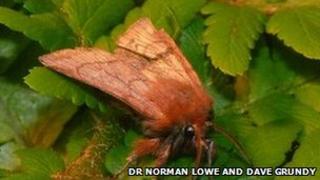 A rare endangered moth, not spotted for 35 years, has been discovered flying over the Black Mountains.
The Silurian moth was spotted by experts who set night traps over the Brecon Beacons National Park.
The moth, deemed night-loving as it is only spotted from the early hours, has not been recorded since 1976, when it was seen in Blaenau Gwent.
Clive Williams, of the Brecon Beacons National Park Authority, said it was a find of "extreme importance".
The moth is so rare that it is on the International Union for Conservation of Nature red data book list of endangered species - making it the only endangered species in the Black Mountains.
It was found after a team of moth specialists carried out surveys through the night, with funding from the national park authority.
'Idiot'
Dave Grundy, a moth expert from Birmingham, Robin Hemming from Herefordshire, and Dr Norman Lowe of the Brecknock Moth Group set light traps on the Hatterall Ridge last month.
They chose that spot as the moth caterpillars are known to live on bilberry plants which are found across the hill.
Their efforts were rewarded when nearly a dozen moths appeared.
Mr Grundy said: "We have been searching for this particular species on areas of suitable habitat within the Black Mountains for quite some time.
"When we finally found it, the moth behaved very oddly in the trap, running round in circles.
"We wondered whether this was the reason for its scientific name, Eriopygodes imbecilla, which roughly translates as 'idiot'."
Caterpillars
Dr Norman Lowe said the find added another name to a list of 1,000 species of moth that have been recorded within the boundaries of the national park.
"The survey has proved that the species is not confined to only a single site, but that it occurs in other areas too, which is good news for the long-term survival of this species in Wales," he said.
"Moths have an important place within natural food chains and are good indicators of the general condition of the natural environment as they are intimately connected to particular plant species upon which the caterpillars feed."
Mr Williams welcomed said more work would be undertaken to find out further details about the moth's habits and behaviour.
He added: "Discovering the Silurian moth in the Black Mountains is a find of extreme importance.
"It's extremely rare because this creature is a real upland specialist and only flies from around 1am onwards, meaning that it is not usually detected by moth surveyors.
"The sighting of scarce moths on this common is especially welcome, as it shows that careful management from the graziers has created a habitat that has encouraged this rare species to survive."