Penycae community school taken out of special measures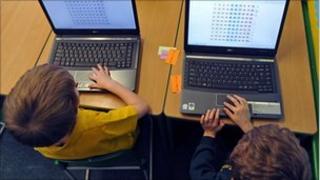 A primary school near Ystradgynlais has been removed from special measures after two years.
The action was taken at Penycae community school after a critical Estyn school inspection in July 2009.
Powys council put an action plan in place, staff changes were made, and Estyn inspectors visited the school each term.
Penycae's chair of governors said he was delighted all the hard work was being recognised.
Positive comments from the inspectors included:
Nearly all pupils had good skills in literacy, numeracy and ICT (information and communications technology skills).
A wide range of teaching methods were used to encourage learning.
Teachers made pupils aware of success criteria and learning objectives.
Alun Thomas, the chair of governors, said he was delighted the school had been removed from special measures.
"Estyn have given us positive recommendations in order to maintain and build upon the excellent progress the school has made to date," he said.
"I would like to thank all the staff who worked so hard to get our school out of special measures and also the governing body of Mount Street junior school who allowed Barbara Adams to become the acting head teacher during this time," he said.
Mrs Adams said the achievement was down to the hard work of all the staff and pupils.
"The support we've had from the parents has also been a great help during this difficult period," she added.
Coun Stephen Hayes, cabinet member for learning and leisure at Powys council, said all the effort has "finally paid dividends".
"When the decision to place the school in special measures was made we were confident that significant improvements could be made, and this has now been confirmed by Estyn," he added.