Trapped sheep rescued from river at Llanidloes, Powys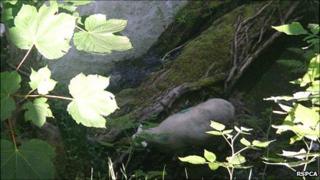 Two sheep who became trapped on a 30ft (9m) cliff at Llanidloes, Powys have been rescued by RSPCA officers.
The white ewes got into difficulty due to rapid currents from raised waters at the Clywedog dam in Llanidloes, Powys.
The RSPCA was contacted by their owner and sent out a team of rescuers on Tuesday.
RSPCA Inspector Phil Lewis said it was a "complicated" rescue due to water being released from the dam to regulate the flow of the River Severn.
The water at the Clywedog dam, which stands around 236ft (72m) high is usually less than a foot deep but on Tuesday it was at waist level and was flowing rapidly, Mr Lewis said.
Mr Lewis took part in the rescue which began at 18:45 BST and ended at 20:00 BST.
Complication
He said: "One of the ewes was on a ledge about halfway down the cliff and the other was right at the bottom on the riverbank itself.
"If it wasn't for the water coming from the dam they would have been able just to walk across the river to safety.
"As it was it was quite a difficult rescue because of the added complication of the water."
Officers were split into two different rescue teams - a rope-trained unit and one trained for water rescue.
Four abseiled down the cliff, while two stayed in the river in case the sheep jumped.
The ewe on the ledge took fright and jumped into the river below, before swimming across it.
The other was picked up by a member of the abseil team and taken back to the top of the cliff.
Both sheep were uninjured.