WWII Dad's Army used Llanwyddelan weathercock as target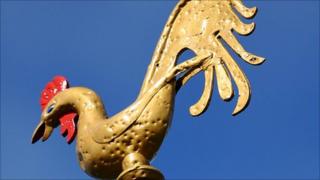 The culprits who peppered a church weathervane with lead shot have finally been discovered - the World War II Home Guard, also known as Dad's Army.
The weathercock has stood on Llanwyddelan church tower, near Newtown, Powys, for 100 years.
But in need of repair it was taken down and was found it have been pitted with lead shot, and had three bullet holes.
Church wardens found that more than 60 years ago soldiers used the cockerel as target practice, 60ft (18m) up.
Villagers were able to check their facts with local pensioner Leonard Gethin, 92, who remembered the poor old cockerel being shot at like a sitting duck.
The Home Guard was formed at the outbreak of World War II when the UK was at risk of invasion from Nazi Germany.
The Home Guard earned the label Dad's Army because many of its members were often older men.
It was later made famous by the BBC comedy Dad's Army, which starred Arthur Lowe as Capt Mainwaring, John Le Mesurier as Sgt Wilson and Ian Lavender as "stupid boy" Frank Pike.
Llanwyddelan church warden Mervyn Foulkes said: "When we took him down we were amazed to see bullet holes in the poor old cockerel.
"He was also pitted with lead shot.
'Rough time'
"He's had a rough time of it over the years.
"We asked around but never really thought we'd find the culprit but an elderly gentleman remembers the Home Guard using him for target practice."
Mr Foulkes added: "You can just imagine all the Home Guard lining up waiting to take it in turns to shoot the cockerel while the villagers looked on.
"It is almost like an episode of Dad's Army."
Villagers checked the facts with Mr Gethin, who remembered the incident, but he could not recall the members of the local Home Guard who protected the village.
The weathervane has stood on the village clock tower for as long as anyone can remember. It is unclear how old it is, but the church was rebuilt in 1865.
The weathercock had rusted over the years and local builder Gareth Jones was hired to climb up the tower to remove him from his lofty perch.
Mr Foulkes and his wife Beryl, the church treasurer, spent their evenings repairing the cockerel and giving it a lick of fresh gold paint.
It was returned to its perch on Wednesday after being blessed by the Reverend Terence Bryan.