Bronglais Hospital discharge death apology by Hywel Dda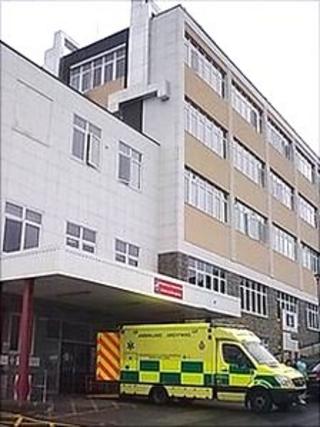 A health board has apologised to a woman whose mother died three hours after being sent home from hospital.
Public services ombudsman Peter Tyndall found the mother was inappropriately discharged from Aberystwyth's Bronglais Hospital in February 2008.
His report, however, said the woman - referred to as Mrs P - may not have lived even had she not been sent home.
Hywel Dda Local Health Board said it had taken action to prevent such a situation recurring.
In his report Mr Tyndall said he had "concerns that despite the fact that a number of Mrs P's observations (oxygen saturations, blood pressure, pulse) were found to be abnormal (and significantly so in the case of the oxygen saturations), the frequency of observations was not increased, nor was a doctor called so the cause of the abnormalities could be investigated."
He added: "While it is, sadly, unlikely that Mrs P would have survived even had she remained in hospital, the state she was discharged in caused additional and unnecessary distress to her and her daughter."
Mr Tyndall criticised the health board for its examples of poor practice contrary to National Institute for Health and Clinical Excellence (NICE) guidance.
The health board has been ordered to pay Ms P £100 in recognition of the time and trouble she was put to in pursuing her complaint, as well as giving her an apology.
The board has also been ordered to review some of its clinical practices.
Trevor Purt, its chief executive, said: "I would like to apologise to the family for the failures identified in the ombudsman's report.
"We fully accept the recommendations and have undertaken immediate action to ensure such a situation will not happen again.
"This includes improvements to the way we identify and act on abnormal patient observations, implementation of additional staff training, and a more robust system for recording communication between ward staff, patients and their families."