Aberystwyth University hosts apps conference iOS DEV UK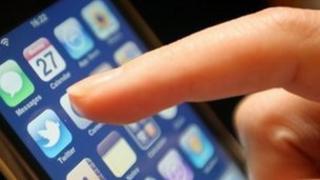 The organiser of a conference on the growing UK apps industry says it aims to help developers share ideas and become more competitive.
The latest developments in apps for iPhone and iPad will debated at Aberystwyth University.
More than 170 delegates are expected at the three-day event starting on Wednesday, with some travelling from the United States, Israel and Europe.
iOS DEV UK is organised by Chris Price, a developer of apps for Welsh learners.
They will also vote on the best apps available.
Prof Price said: "When Apple launched their iPhone App Store in 2008, they started a revolution in mobile phones.
"Before that date, very few people expected their phone to be able to do anything except make phone calls, send texts or maybe surf the web."
Prof Price, who is at the university's department of computer science, added: "Last year Apple sold more than $2bn worth of apps and over half of the phones sold in the USA this year will be smartphones - capable of helping you plan your wedding, navigate in your car, select and book a hotel or a restaurant, track your weight, keep your diary, and a thousand other useful functions.
"The UK has been making a contribution to this growing industry, with healthy numbers of apps being created and sold."
There are "lots of ideas" around but the challenge was to £make them in a way that excites lots of people, who tell their friends about it, and they all want to buy it," he added.
"We have people talking about design for developers, how to make apps which are easy for people to use, that don't want to make them throw their phone in frustration."
Better ways of using the technology within a phone will also be discussed.
"So the first speaker today, Alasdair Allan, is talking about the difference sensors that are in a phone, and how you can use those to best advantage.
"When you tilt the phone it can sense it, or it's got a microphone in it, and it's got a network so it can talk to the internet," he said.
Prof Price said when he began putting the conference together he had envisaged it would be for developers from the UK, but it had attracted lots more interest than that with delegates from all over Europe, and one from Texas in the United States.
Other speakers at the conference include Dave Addey, managing director of Agant Limited, which developed a UK Train Times App, and Dave Wiskus, chief creative officer of US-based developers Black Pixel.
Mr Addey said he believed this was the first such conference in the UK.
He said: "There have been other conferences elsewhere but this is the first that's particularly geared to running affordable apps for people that are new to iPhone development."
Mr Addey added: "Two years ago the industry had only just begun. We had no idea back then it would become the industry it has.
"We created the UK Train Times App. Unfortunately, every train has the potential to be late, so it can mean the difference between getting home late or on time.
'Fill the gaps'
"It's an example of how apps can be part of every day life. They are not useful for everything but when you need it you really need it.
"It may always be useful to have something like a car manual with you, for example."
Mobile devices can fill the gaps left by notebooks and conventional reading material when people have some spare time, he added.
"There is perhaps an argument for people being less sociable because they are spending more time on their device but then they can keep in touch with their friends better than they would otherwise."
Mr Addey predicted that the number of apps would increase, even though prices for building them start at some £10,000, he said, but their complexity would remain limited.
He said: "There is an argument that you shouldn't make it too complex, just do one or two things really well.
"We always try to avoid having too many features on an app, that part is good development, but certainly there will be more of them."