Hafren in Newtown reopens after £900k revamp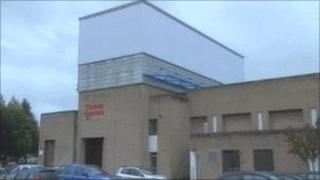 A theatre in Powys is reopening after a £900,000 revamp which will increase the number and variety of shows it can host.
As part of the work, Theatr Hafren in Newtown, which has been closed since the spring, has been rebranded Hafren.
The majority of the money from Powys council has gone on a new "fly tower", which will help move pieces of scenery.
The council has defended the investment after a theatre for schools closed in Llandrindod Wells in April.
The refurbishments at Hafren also include improvements to the bar area and a new box office, which doubles as a reception for neighbouring further education college, Coleg Powys.
The college has spent £200,000 upgrading some of its facilities at the same time.
Powys council said Hafren needed the investment because old wiring, lighting and technical equipment meant it was in danger of failing its insurance audit.
Sara Clutton, Hafren's administrator, said the theatre "brings tourism in, it provides an essential service for the schools, and people need something to do in the evenings here and that's what we're here to do".
Hafren's new fly tower has cost £800,000 and it is seen as essential in attracting a variety of new shows.
"The old mechanism was quite outdated. It was 30 years old, it needed replacement urgently, so we've now got this new system of mechanised winching," added Mrs Clutton.
"It means we can fly sets and scenery, lighting, in and out to cue.
"It just opens up a whole new world of entertainment for Hafren."
Wynne Jones, Powys council's cabinet member for regeneration and culture, said he was excited and very pleased the authority had spent money on Hafren.
He called Hafren one of three major theatre venues in Powys, along with Theatr Brycheiniog in Brecon and Wyeside Arts Centre in Builth Wells.
Of Hafren, he said: "This development means Hafren will be able to put on far more ambitious shows than it's previously done and appeal, therefore, to a wider audience and provide a much better service."
He defended the decision to invest capital funding in the theatre after the closure of Theatr Powys in Llandrindod Wells in April.
Theatr Powys had worked with schools for nearly 40 years, but following a major cut in funding from the Arts Council of Wales (ACW) it was forced to shut.
ACW said at the time it had to make difficult choices.
Mr Jones said: "We have maintained revenue funding for the arts and we've repackaged Theatr Powys as a drama centre.
"You cannot use capital funding for revenue spend. Capital funding is funding that is only available one-off. Revenue spending is something that occurs every year."
Hafren reopens on Wednesday with a performance of Madame Butterfly by Mid Wales Opera.