Tesco and Co-operative submit Machynlleth store plans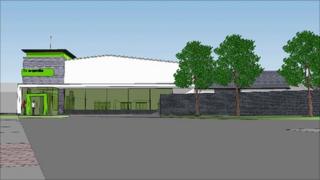 Two supermarket giants are going head to head in a small Powys town over plans for their stores.
Tesco has resubmitted proposals for a store in Machynlleth, while rival The Co-operative has responded with plans to extend its existing store.
Tesco withdrew its original application in Machynlleth in June last year after the Welsh Government raised concerns about road safety.
The Co-operative's plans are on display at the town's old community hall.
The Co-operative proposes increasing the size of its store from 8,000 sq ft (743 sq m) to 13,000 sq ft (1,207 sq m), and wants to build a new customer entrance and create 57 extra parking spaces.
It said the store would be gutted inside, and "completely transformed to create a modern, fresh layout with wider aisles, more checkouts, and a greater selection of goods".
Dave Evans, The Co-operative's regional operations manager, said: "We've been open at Machynlleth for almost 20 years now.
"The store is looking a bit tired and cramped and needs a makeover.
"We're not building a new store, we are doing something far more environmentally friendly and that's recycling our old one, by extending it."
The store in Machynlleth employs 52 people, and there are plans to create new jobs if the work is given the go-ahead.
Road safety concerns
Tesco, which has 2,715 stores in the UK, withdrew its original application for Machynlleth last year following the intervention of the Welsh Government over road safety concerns.
There has also been opposition from local people, who are concerned Tesco's plans could jeopardise small independent shops.
The company plans to create 140 full and part-time jobs.
At present, some people in Machynlleth travel about 18m (28km) to shop at a supermarket in Aberystwyth, even though the town has smaller food stores.