Borth's barrier reef attracts surfers to Cardigan Bay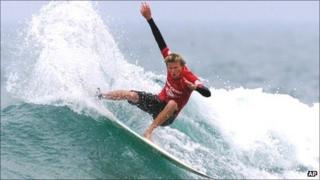 A man-made barrier reef created as part of a £29m coastal defence scheme is expected to bring more surfers to mid Wales.
The 300m (984ft) reef, at Borth near Aberystwyth, is due to be completed in November.
Ceredigion council said it would provide protection from coastal erosion and flooding.
But surfing schools say it will attract enthusiasts from across the UK, and could ease overcrowding in other areas.
With a population of 1,500, which swells by 7,000 with an influx of holidaymakers, bathers and surfers, it is hoped the 6km-long award-winning Borth beach will now become even more alluring to visitors.
Simon Turner of Aber Adventures, which organises surfing lessons along Cardigan Bay, said it was "highly likely" the reef would attract more surfers.
"It is one of the first in the world that is purpose-built using rocks," he said.
'Constant pressure'
"It is a unique project. It gives us another resource from a surfing point of view."
Popular surfing spots were "under constant pressure" and suffered from overcrowding.
"It's a new scheme so people will want to see it. This will disperse crowds in other areas," he said.
The project has been jointly funded by the Welsh Government and the Welsh European Funding Office.
It will comprise two rock breakwaters, two rock groynes, shingle nourishment and the construction of the off-shore reef.
Although its primary function is coastline protection, the reef has been designed to improve surfing conditions at high tide.
'Protecting'
A Ceredigion council spokeswoman said: "It will not create waves but will instead act to focus and shape the waves in an attempt to improve surfability, hopefully giving surfers a longer controlled ride."
She added it was not the intention to "provide a surfer's paradise", but to provide protection to the village of Borth from coastal erosion and flooding while providing added amenity benefits by retaining an open beach.
Val Hawkins, chief executive of Mid Wales Tourism, said: "The artificial reef and coastal protection work are excellent news for Borth.
"Tourism is a very important industry in the area and the beach at Borth is particularly well-known for surfing.
"We hope this new investment will attract many new surfers to mid Wales whilst also protecting Borth and adjoining the coastal area."