Household recycling business Cae Post 'threat' in Powys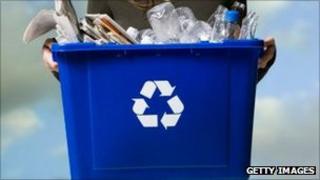 A charity says it has serious concerns for its future, with worries a council wants to take over a household recycling scheme it has been running.
Cae Post launched its kerbside collection five years ago for 5,500 homes in north Powys.
Charity managers, who employ 37 near Welshpool, say Powys Council claimed it could save money if it ran the service.
The council is in talks and says it is "surprised and disappointed" at the timing and tone of the statement.
The council said no final decisions had been taken.
Cae Post's general manager, Richard Marsh, said the kerbside contract with the local authority was worth up to a third of its annual turnover.
"We have very serious concerns about our future," said Mr Marsh.
"We pioneered a box-based recycling service five years ago for them (Powys Council) in north Montgomeryshire, but it's under threat and that has a knock-on effect on the rest of our business."
Mr Marsh said Cae Post did more than recycle products and used its income to benefit the community.
He said 20% of the workforce had a recognised disability, and the charity also offered work placements to people who found it difficult to find work, such as youth offenders.
"It provides work opportunities for disadvantaged people, and that bit gets lost in all this," Mr Marsh added.
'Clarify issues'
Susan Morley, chair of Cae Post's trustees, spoke of her concern at its annual meeting recently.
"Cae Post has achieved quite remarkable progress in improving recycling collection in Montgomeryshire in recent years and I don't understand what is to be gained by shutting us down," she said.
Meanwhile, Montgomeryshire AM Russell George said the news was "very concerning".
Earlier this year, the council said it announced a "new and improved" kerbside recycling scheme, but delayed introducing it in north Powys while it held talks with Cae Post.
Ken Harris, Powys council's waste and recycling cabinet member, said: "I am surprised and disappointed with the timing and tone of this announcement as we are in active discussions with Cae Post as to how they can support us in our ambitions.
"We are implementing changes to meet tough Welsh Government recycling targets and I would have liked the opportunity, as cabinet member for waste and recycling, to speak at the AGM to explain what we are trying to do and clarify any issues that were raised at the meeting."