Welshpool shops and restaurant plan to create 125 jobs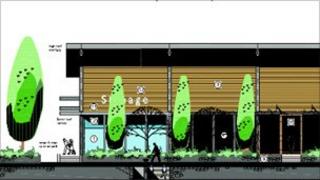 The next phase of a project to redevelop part of a Powys town centre is expected to create 125 jobs, say developers.
Three shops, costing about £2.5m, are expected to generate 75 jobs in Welshpool, says J Ross Developments.
Meanwhile, brewers Marston's have been given the go-ahead to build a 180-seat restaurant, which will create another 50 jobs.
The projects are set for land on the town's former livestock market.
The site is near a Tesco store, which opened in February.
The latest scheme is part of a continuing redevelopment of the old market site.
'Incredibly excited'
J Ross Developments said work would start on the restaurant next month ahead of an opening next spring.
However, plans for the shops, which also include a cafe, are still in the early stages.
Steve Roberts, a spokesman for Marston's, said the business was "incredibly excited" that planning permission for the restaurant had been granted.
Spencer Cooper, a director of J Ross Developments, said the aim was to complement existing shops and restaurants and make the town "the destination choice for shoppers and holidaymakers from outside the area".