Aberystwyth University halls evacuated over sinks flood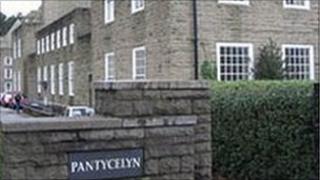 Hundreds of students were evacuated after blocked sinks in a university halls caused "considerable damage".
Aberystwyth University said water leaked through the floors onto the electrics and activated the fire alarm at Pantycelyn, near the main campus.
Officials said those responsible had been identified and now faced "disciplinary procedures".
The full cost of the incident inside the historic building was still being assessed, said the university.
The students were taken to nearby Penbryn conference rooms after the alarm was raised on Wednesday night.
Electricians were called and assessed the damage with university staff.
Switch off
A university spokesman said: "There was considerable water damage to the building.
"Water leaked through the floors onto the electrics and activated the fire alarm system. The university is still assessing the full cost of this incident."
A risk assessment was carried out before students were allowed back to their rooms.
"A few students had to be relocated to alternative accommodation as we had to switch off the electricity to a small part of the building," the spokesman said.
"The person/s responsible have been identified and now face the disciplinary procedures of the university."
Students temporarily relocated on Wednesday night were able to move back the next day.
Among Pantycelyn's famous past residents is Prince Charles, who stayed there for a term in 1969 while he studied at Aberystwyth.
BBC One Show presenter Alex Jones also lived there as a student
Pantycelyn became one of the first halls for Welsh-speaking students in 1974. The university now plans to build a replacement on farmland.