National Library of Wales reunites women in 1965 photo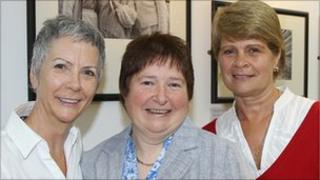 Three school friends photographed nearly 50 years ago have been reunited after an appeal by the National Library of Wales.
Nerys Jones and cousins Jane Brandrick and Daphne Jones were snapped as schoolgirls in Welsh costume at the National Eisteddfod in Newtown in 1965.
The trio are from the Newtown area, but Nerys Jones now lives in Gwynedd.
The original photo was taken by Geoff Charles, whose archive of 120,000 images is held by the library.
The appeal was launched after the library decided to use one of his photos to promote a series of outreach events.
The women, now aged in their 50s, were reunited in Newtown, where the Aberystwyth-based library was describing its work to the public.
Nerys Jones has her home in Bethal, Caernarfon, but the other women still live in the Newtown area.
Mr Jones, 56, said she heard about the photograph appeal from her cousin.
She said: "I was 10 when the picture was taken and living in Newtown. Two years later we moved to Aberystwyth and I hadn't seen Jane or Daphne since then.
"The photo was taken at the National Eisteddfod in Newtown. I was on the Maes (the event field) and saw Jane and Daphne, who are cousins.
"I was in the same class as Jane at school and knew her better than Daphne, who was a year older than us."
Ms Jones said the women reminisced over lunch.
"We talked about the old days, our lives and generally caught up. We exchanged addresses so hopefully we'll meet again."
Photographer Geoff Charles was from Brymbo, Wrexham.
His collection of 120,000 images was donated to the national library more than a decade ago.
Charles took pictures of people and places along the Welsh border region for local newspapers, including the County Times and the Welsh language weekly Y Cymro, from the 1930s until 1969.
Nia Lewis of the national library said: "Every year the National Library of Wales leaves Aberystwyth and organises a series of events in another town. Last year we were at Wrexham, in 2011 it's Newtown's turn.
"When we saw this delightful photograph by Geoff Charles of Jane, Nerys and Daphne we knew this was the image to use."