Student flats plan for Aberystwyth's ex-passport office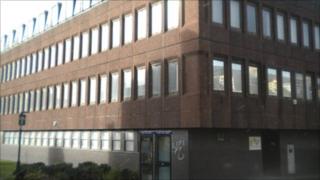 Controversial plans to turn an ex-passport office in Aberystwyth into student flats have been unveiled.
Tai Cantref housing association propose converting the four-storey building, which was also an office for the Department for Work and Pensions.
But some town councillors and residents claim there is a lack of parking in the area and fear noise from students will be a problem.
Tai Cantref said a rise in student numbers had caused problems.
A lack of rooms in Aberystwyth has been an issue in recent years, with some students housed in guest houses and hotels.
Last month, a record intake of first years at Aberystwyth University saw 600 sleeping in bunk beds.
The offices in Northgate Street, known as Crown Buildings, have been vacant since the passport office closed in August.
Amplifying noise
It is closely surrounded by terraced houses and town councillor Mark Strong said this was one of the reasons why the building was unsuitable for student flats.
He said: "I do not feel that the site in Northgate Street is ideal.
"I certainly do not think that the car parking spaces to be provided are adequate or realistic.
"Northgate Street is also quite narrow and the streets around quite tightly packed - perfect for amplifying noise.
"It does not take much imagination as to what sort of problems this will cause."
Unique opportunity
The plans for the building include 13 common rooms alongside 63 single-person flats.
Gareth Thomas, of Newcastle Emlyn-based Tai Cantref, said: "A surge in student numbers in recent years has resulted in a chronic shortage of suitable accommodation for Aberystwyth University students.
"In line with our charitable status, Cantref has responded to this need by submitting planning for a 63-bed high quality, managed student accommodation scheme at the Crown Buildings site.
"The passport office recently vacated the premises, but the upper floors have been empty for a number of years. Our proposals offer a unique opportunity to redevelop a building that would otherwise remain vacant."
Mr Thomas said subject to planning, Tai Cantref aimed to start work on Crown Buildings in January and finish in June.