'Unanswered question' over Lake Vyrnwy estate sale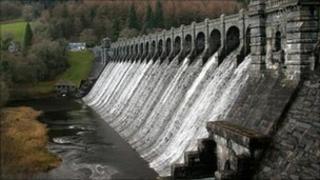 People living on the Lake Vyrnwy estate in Powys said they still have "unanswered questions" after meeting its potential new owners.
Owner Severn Trent has named United Utilities and RSPB Cymru as preferred bidders.
The £11m sale is described as the biggest in living memory in Wales and England.
One resident said he feared the estate was being "split up". The joint bidders said they wanted a shared vision.
David Rowlands told the meeting in Abertridwr: "I still have more questions I want to ask but I'm concerned particularly that the estate is going to be split up"
Consultation
"The estate always used to be run as one unit. The result of this split with this lease is that the split is going to be perpetuated", he added.
Another tenant said the future was still uncertain. ""We haven't been told anymore than we have heard before. We are tenants and we don't know where we stand".
A three-month consultation started last month after the preferred bidders to develop the estate were named in July.
United Utilities and RSPB Cymru offered for the agricultural holdings on the estate, while FIM Sustainable Timber and Energy LP was named preferred bidder for the commercial woodland.
Many local people had backed a rival offer by Bala-based millionaire businessman Rhys Jones.
'Fabulous bids'
Ted Pearce, Director of Property for Severn Trent, said Friday was an opportunity for a really good open session with the community of people around Vyrnwy.
"We've had very good feedback, which is hugely valuable to us. We were really pleased to see the level of engagement which we've had here today," said Mr Pearce.
"We had some fabulous bids, many of them we would have been delighted to work with," he explained.
"For this precious asset, we just felt there was a slightly better bid from UU [United Utilities] and RSPB. They are used to dealing with big upland estates of this nature," said Mr Pearce.
"They are used to dealing with communities and they've got some great ideas."
'Wonderful area'
Daniel Jenkins-Jones, head of public affairs with RSPB Cymru, spoke on behalf of the joint bid. He said they were sharing their vision for the future management of the estate.
"By going for a longer term lease we can make better, firmer plans for the future," said Mr Jenkins-Jones.
He stressed the importance of working with local people.
"We want their input so it's a shared vision for the estate. I can say that we will try and tap into the 250,000 who visit this wonderful area and give them reasons to stay that bit longer, spend more money. Jobs will result from that," said Mr Jenkins-Jones.
United Utilities provides water and waste water services to nearly seven million people in north west England, supplying more than three million households and more than 400,000 business premises.
Parts of the Lake Vyrnwy plot being offered for lease are entitled to special protection and include Sites of Special Scientific Interest, a Special Protection Area for birds and a Special Area of Conservation for its outstanding upland habitats.