Sainsbury's plan out-of-town Aberystwyth store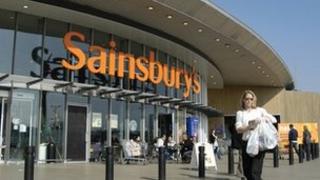 Supermarket giant Sainsbury's has announced plans for new store in Aberystwyth just weeks after proposals for a Tesco were unveiled.
The Sainsbury's development is earmarked for land out of town, near a Morrisons supermarket, and is expected to create up to 400 jobs.
Tesco was announced as the preferred bidder for a town centre development last month, creating 200 jobs.
It could result in the demolition of 12 homes, but a resident opposes this.
Developers Conygar said a planning application had not been submitted for the planned 37,000 sq ft (3,437 sq m) Sainsbury's store near Aberystwyth's Parc Lodge Hotel.
The company said between 300 and 400 full and part-time jobs could be created if the plans were approved.
Graham Wilson, Sainsbury's development surveyor for Wales, said: "We have wanted to bring our quality, affordable offer to Aberystwyth for many years, so we'd be keen to put forward proposals for a new store here.
"If it looks like a store would be possible on the site, we would consult widely with residents and local groups in order to develop the best possible application."
Sainsbury's has pledged to support local suppliers and producers if its Aberystwyth store is backed by Ceredigion council.
Conygar recently unveiled plans for a Sainsbury's supermarket in Haverfordwest.
Tesco's Mill Street development in Aberystwyth has attracted criticism.
The proposal has placed 12 terraced homes under threat and one resident has refused to sign a deal to hand over her home to the developer.