Rhoserchan drug rehabilitation unit 'lacks patients'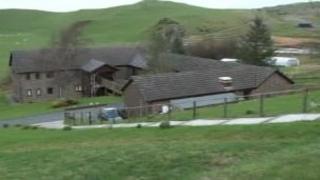 The manager of a drug rehabilitation centre in Ceredigion has criticised the lack of referrals to her unit.
Anette Millandt-Rumble, of Rhoserchan near Aberystwyth, said patients were not being sent to rehab when they should be and it was not half full.
Some Welsh patients are being referred to centres in England, which is also having an impact.
But the Welsh government said people were treated in England when it best suited the individual.
In the past year, Welsh government money has paid for rehab for 91 people, but only 50 were treated in Wales.
Rhoserchan, a charity, is a residential centre and opened a new premises in 2007 after receiving £550,000 of European Objective 1 funding.
It has room for 22 people, but it is only looking after eight at the moment.
Ms Millandt-Rumble said: "I think the need there is huge and I think many people will seek and get given treatment perhaps in the community, and I think there is a case for more of those people to make their way into rehab.
"A lot of people see it as a last resort, as an expensive option, but I think the way we look at it is what's the cost of not treating somebody who needs the treatment?"
Lauren, 22, (not her her real name) is being treated at Rhoserchan. She said she would be devastated if the centre closed.
"There are people out there that need this help and not enough people can get the help as it is, and for somewhere like this to close that's just another opportunity totally down the drain," she said.
"We need places like this, we need more of them if anything."
People receiving treatment at Rhoserchan are encouraged to take part in a variety of practical activities, including growing vegetables and singing.
Steve has spent the last three months receiving treatment for an alcohol problem. He said he owed his life to Rhoserchan.
"There was no way out. Even to the point where I'd made a suicide attempt, a serious attempt, and just 12 weeks on I'm full of hope now," said Steve.
"I'm really looking forward to the future now."
A Welsh government spokeswoman said in 2010-11 community safety partnerships in Wales used their resources to purchase 91 beds for treatment.
"While 50 of these beds were in Wales, including 19 at Rhoserchan, the remainder were in residential rehabilitation centres in England," she said.
"The Welsh government has reminded health boards and local authorities of the Welsh facilities available.
"However, beds are commissioned from providers in England when this is thought to be the best way of meeting the needs of the individual."
'Most appropriate'
BBC Wales contacted councils in mid and south west Wales who use Rhoserchan, and Carmarthenshire and Pembrokeshire are the only authorities to respond so far.
A spokesman said the number of people in Carmarthenshire requiring rehabilitation had increased in the last year from 11 to 20.
He said the number of placements had grown from 18 to 25 over the same period, and the cost of the placements had risen sharply from £85,328 in 2009-10 to £255,618 in 2010-11.
The spokesman said: "Through our assessment process we aim to identify the most appropriate placement to meet the individual's needs.
"Whilst we use the Welsh rehabilitation centres wherever we can it is sometimes necessary to use English placements to best meet the needs of the individual."
In Pembrokeshire, placements dropped in the past year from 23 to 14.
A spokesman said: "The nearest placement is always sought to meet the identified needs of the individual assessed.
"However this sometimes leads to accessing placements outside of Wales as there are few centres within."