Powys council's cash support plan for homebuyers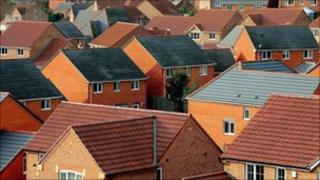 First-time buyers in Powys could receive help with deposits for homes under a new scheme.
Councillors will be asked to set aside £1m for loans under the Local Authority Mortgage Scheme at a cabinet meeting on Tuesday.
The scheme enables councils to help first-time buyers who cannot afford a large deposit.
Conwy council cabinet passed a similar scheme to help people get on the property ladder in September.
The scheme is being considered by other councils in Wales.
In Powys, the council could provide a cash backed indemnity of up to 20% of the property value as additional security.
This would mean homebuyers would be able to provide a smaller deposit to get a mortgage.
People could also enjoy the benefits of taking out a 75% mortgage with only a 5% deposit.
Tony Thomas, cabinet member for housing, said: "Raising a deposit is one of the biggest hurdles for first-time buyers and many banks and building societies are not lending to those homebuyers who cannot put up a deposit of less than 20% to 25%.
"This proposal to help first-time buyers to access the housing market will not only stimulate the housing market but also the local economy generally.
"It will also ensure that people are able to access good quality housing to meet their needs."
Swansea-based Gwalia provides rented homes for people in Powys.
But Gŵyr Homes, part of the Gwalia group, is working with Powys council on providing homes for sale in the county.
'Major barrier'
Gŵyr Homes' executive director Stuart Davies welcomed the council's "proactive stance".
He said: "In our experience, raising large deposits is the major barrier to buying a first home and Powys' new initiative provides a solution to this problem."
Gŵyr Homes offers a system called Homebuy, where it sell homes for 70% of their market value and mortgage lenders only require a minimum 5% deposit.
"In partnership with Powys County Council, we are also identifying opportunities where we can work together to increase the supply of affordable homes for sale in the county," added Mr Davies.