Dyfed-Powys Police roll out car computer project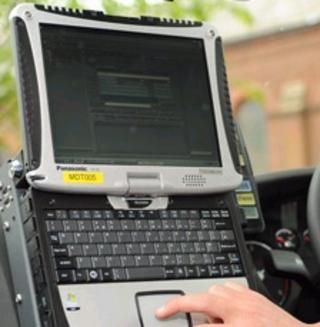 A new police in-car computer, which allows officers to spend more time on the beat, is being rolled out across the Dyfed-Powys force.
The specialist technology, known as Toughbook, has been trialled for the past few months in Carmarthenshire.
But Dyfed-Powys Police are now fitting them to the dashboards of patrol cars in Powys, Ceredigion and Pembrokeshire.
They allow police to access force computers from their cars without having to return to the station.
Meanwhile, 16 police force vehicles have been fitted with other new equipment which allows fingerprints to be taken at the roadside.
Dyfed-Powys Police said 77 toughbooks were now in use.
They are thought to be the only force in Wales using the technology, but they are being used by Hampshire police.
Deputy Chief Constable Jackie Roberts said Toughbooks would transform the way "we do business".
She said officers would be able to access emails and monitor ongoing incidents from their cars.
"It will allow police officers and police community support officers to get out of police stations and out into the heart of our communities," she added.
"What the public continually tell us is they want us out there and visible in communities, and the issuing of these Toughbooks is going to mean that officers can undertake their work on the move.
"They'll have access to the information they need when they need it."
The force said for the officers who used the technology on the beat, the toughbooks were proving invaluable.
"I didn't know what to think of them before they came in, but they've been great," said Pc Sarah Dalling, a response officer working in Llanelli.
"They've definitely assisted me, especially when going to calls.
Mini drones
"If I need any information I can have a look on the Toughbook straight away without having to go back to the station. And that means I can spend a lot longer on the streets."
Police said in rural communities, which form a significant part of the Dyfed-Powys area, toughbooks were having a positive impact.
Modern technology is increasingly being used by police around the UK in the fight against crime.
Last month, police patrolling the skies above south Wales said Twitter was proving an effective weapon.
In Northern Ireland, police are considering using mini drones to combat crime and the dissident republican threat.
Meanwhile, Dyfed-Powys Police said in 2004 they were planning to use satellite tracking equipment to crack the age-old crime of sheep rustling.