Cardigan Christmas lights return after safety ban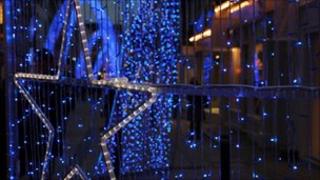 Christmas lights have been switched on in a Ceredigion town that went without last year due to health and safety concerns.
Cardigan Chamber of Commerce had raised £12,000 for new lights, but wall brackets were found to be too weak when engineers tried to fit them in 2010.
Ceredigion council has since paid £5,500 for some replacement brackets, which were fitted a few weeks ago.
Mayor Catrin Miles turned the lights on at a ceremony on Thursday evening.
Chamber of commerce chair Paul Oakley said the lights were important for trade.
"I think the general population and the traders think it's very important to have Christmas lights," he said.
"They herald the start of the festive season and I think they encourage people into the town to spend money."
Last year, the chamber of commerce said there was not enough time or money to install new brackets on shop walls after the problem was discovered.
'Extremely pleased'
But the town's Christmas festival went ahead and there were festive lights on the town's Guildhall, as well as a tree.
Cardigan mayor Mrs Miles said this year's lights would give people in the town "a bit of a boost".
Butcher Keith Davies said: "I'm extremely pleased especially after last year's fiasco."
He added that the town's opening hours would be extended until 20:30 GMT on Thursday.
Miriam James, who works at the Awen Teifi bookshop, said: "It was very disappointing last year. We hope that the streets of Cardigan will be full of people this year."