Aberystwyth shop owner plea after window smashed again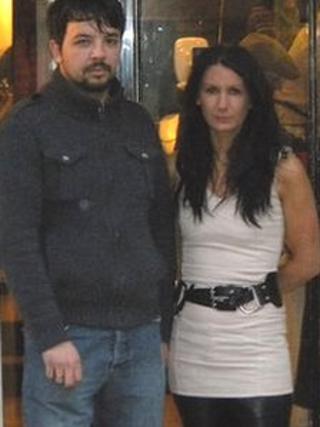 A businessman is urging police and magistrates to crack down on vandals after his shop window was smashed for the 18th time in 17 years.
Simon Chamberlain and his wife Carol, who run a hairdressing salon in Aberystwyth, claim repairs have cost them thousands of pounds.
Mr Chamberlain said very few people had ever been caught for the vandalism and he felt let down by the legal system.
Dyfed-Powys Police said it took anti-social behaviour very seriously.
Cheap drinks
The most recent damage was caused by a 21-year-old, who magistrates ordered to pay £250 compensation for causing £660 worth of damage.
Mr Chamberlain said insurance for the shop in Bridge Street did not cover vandalism, so the business had to foot the bill for the replacement glass.
He blames students, fuelled by cheap drinks during the week, for much of the problem.
"The attacks are pretty random, but they tend to happen on Tuesday, Thursday and Friday when there are offers of cheap drinks," said Mr Chamberlain.
"It always seems to be students who are responsible and the problem goes away when the students are not here."
The president of Aberystwyth Guild of Students, Ben Meakin, said most students respected the community.
"Many understand the vital role that students play in Aberystwyth," he said.
"It is unfortunate that the student body is often blamed for acts such as vandalism, when most students respect the community in which they live."
Mr Chamberlain, who lives above the shop with his wife and daughter, added that other businesses in the town had been targeted by vandals, along with parked cars.
"I've also had vehicles damaged," he said.
"One night cars along the entire street had their wing mirrors kicked off.
"There seems to be a lot of police in the town during the day, but very few about when they're needed at night.
"I feel let down by the legal system and police and magistrates need to toughen up on vandalism."
Commitment to safety
But joint chair of Aberystwyth Chamber of Commerce, Chris Mackenzie-Grieve, said vandalism was not a "massive issue in the town".
"I had a takeaway in Great Darkgate Street (the main shopping street) and we had a window smashed three times in two years," he added.
Insp Rose-Ann Lloyd of Aberystwyth police said: "As part of our commitment to community safety and confidence, Dyfed-Powys Police will continue to work alongside its partners to effectively reduce incidents of anti-social behaviour and criminal damage in the Aberystwyth section."
She added that the police took anti-social behaviour and criminal damage very seriously and officers would target those responsible.
In 2007, Ceredigion county councillor Ceredig Davies launched a petition urging council leaders and the police to curb late night "drunken idiots" in the town.
He said he had been inundated with complaints from residents who claimed revellers were causing problems while walking home.