'First' all-female Welsh RNLI crew lead rescue at Cardigan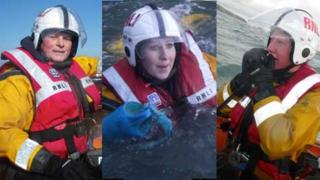 A shop worker, classroom assistant and Royal Navy specialist are believed to have become the first all-female volunteer lifeboat crew to respond to a callout in Wales.
Although 92 women are among the RNLI's 600 members in Wales, it was only late last month that circumstances combined to bring an all-women crew together.
The three are volunteer crew based at Cardigan Lifeboat Station.
They were called to carry out a search for a swimmer off Poppit beach.
The swimmer eventually managed to make it ashore safely despite the "difficult conditions".
Classroom assistant Gemma Griffiths, 24, was at the helm along with her sister Sarah, 21, a seaman specialist on leave from the Royal Navy in Plymouth. They were working with fellow volunteer, Louise Francis, a shop worker.
And it was perhaps appropriate that their boat is named after former Welsh gold medallist Tanni Grey Thompson.
Gemma Griffiths said the dynamics do not change whether it is a mixed or single sex crew because all members are focused on the job and put the same training into action.
"I love it," she said. "It is an adrenalin rush.
"And you have the feeling that you have helped someone," she said.
It was only by chance that the sisters got to work together as Sarah Griffiths was home for the weekend attending a friend's wedding and was due to leave hours before the call came in on the Sunday morning.
Gemma Griffiths said she has been involved with the lifeboat station since she was 17, encouraged by her father, Cliff, who is lifeboat operations manager.
And the Griffiths' brother, Alex 23, is also a crew member when home on leave as he is also in the Royal Navy and serving overseas.
"I have been on a few rough shouts," said Gemma Griffiths, adding that conditions off the beach can be "difficult".
The RNLI can only say they think this was the first time an all-female crew responded to a callout in Wales as they have only been keeping computerised records since the 1990s.
But women have been involved in the service for decades.
Grace Darling is the first woman to be awarded an RNLI medal for taking part in a famous rescue off the coast of Northumberland in 1838.
And the first to receive a gallantry medal in the 20th Century was Aileen Jones, a crew member and helm at Porthcawl Lifeboat Station.
She was awarded an RNLI bronze medal in 2005 for her part in the rescue of two fishermen, the first woman in 116 years to be given such an accolade.
It is thought the first all-female RNLI crew in UK and Ireland was in 2004 at Lough Derg where seven of the 15 volunteers were women.