Powys council approves cash support for home buyers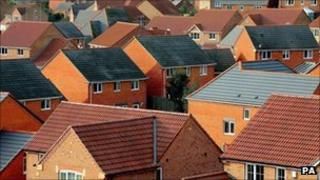 First-time buyers in Powys struggling to find a deposit for a home are to receive help from a new scheme.
Councillors set aside £1m for loans under the Local Authority Mortgage Scheme at a cabinet meeting.
The scheme enables councils to help first-time buyers who cannot afford a large deposit.
Conwy council cabinet passed a similar scheme to help people get on the property ladder in September.
The scheme is being considered by other councils in Wales.
In Powys, the council will provide a cash backed indemnity of up to 20% of the property value as additional security.
This means home buyers will be able to provide a smaller deposit to get a mortgage.
People will also enjoy the benefits of taking out a 75% mortgage with only a 5% deposit.
Councillors backed the scheme on Tuesday after it was deferred at a cabinet meeting last month.