Dyfed-Powys Police restore 1903 officer's grave stone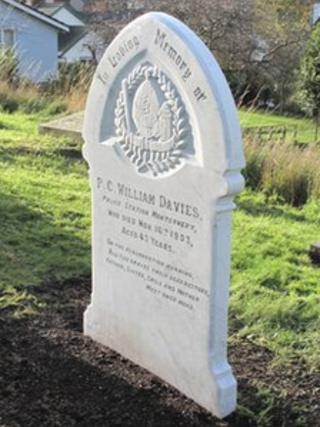 A policeman's grave stone has been restored after he died in the line of duty more than a century ago.
PC William Davies, 43, collapsed while trying to arrest sheep rustlers in Montgomery, Powys, in 1903. He died of a heart attack three weeks later.
Earlier this year, Dyfed-Powys Police traced PC Davies's family because they wanted to refurbish the deteriorating grave stone.
The stone was re-dedicated at a special ceremony.
PC Davies' grave is at St Nicholas Church in Montgomery, but over the decades the headstone had deteriorated and the dedication on it had become almost illegible.
It was brought to the attention of Dyfed-Powys Police Chief Constable Ian Arundale who called for it to be refurbished.
The newly-restored stone was recently unveiled at a ceremony attended by Mr Arundale, Montgomery's mayor Cerys Thomas and PC Davies's great grandsons Michael and David Davies.
Mr Arundale said: "Police officers who are killed in the line of duty merit a special gratitude for paying the ultimate price, thereby ensuring the safety of members of their community.
"This level of dedication from a serving officer should be continually recognised so that further generations in the community can acknowledge the courage and commitment demonstrated by police officers such as the late Pc William Davies."
The work to restore the stone cost £750 and was paid for by the Police Federation, the organisation representing constables, sergeants, inspectors and chief inspectors.
Money also came from the Dyfed-Powys Police property fund, which comes from the sale of unclaimed goods.
PC Davies left a widow and four children who were asked to leave their home in Gaol Road in Montgomery by the police a couple of weeks after he died, his great grandson Michael Davies said earlier this year.