Ceredigion sheep farmer tops jousting league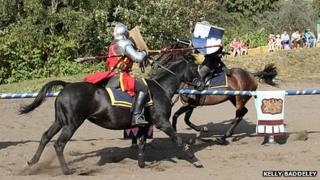 A Ceredigion sheep farmer is leading a UK jousting league after taking up the sport when his wife bought him an activity day gift for his birthday.
Phil Hughes, 49, from near Aberystwyth, trains for events on his farm.
He and nine other horsemen and woman are helping to revive the sport which was once the preserve of the aristocracy in the Middle Ages.
Jousting is a game between two people mounted on horses and also features swordsmanship.
The knights are clad in 20kg of armour, wielding 12ft (3.6m) wooden lances and ride at speeds of 25mph (40kms).
But Mr Hughes, who has ridden horses all his life, claims people without any experience of the animals can take up the sport.
Fields of battle
After two years' training he is top of a UK amateur league and is known as Sir Philip of Argoed, after his farm in the village of Talybont, on the field of battle.
The part-time lecturer at Aberystwyth University said: "I saw jousting for the first time when I was 10. It was the last thing my father took me to before he died.
"I was fascinated by it but it wasn't until 2005-06, when my wife bought a jousting experience gift for my birthday, that I was really bitten by the bug.
"I enjoyed the experience day so much that I decided to take up jousting as a hobby and started training.
"I had to go through three levels and each one built on the skills I'd already learned and eventually I was wearing armour, a helmet and using a shield and a lance."
Mr Hughes said he was trained by the Knights of Middle England, based at Warwick International School of Riding.
They supply the horses and all the equipment.
Mr Hughes was asked to join the newly-formed amateur jousting league last year.
Accuracy
"I am top of the league by one point after three tournaments," he said.
"I finished second in the first tournament, third in the second and fifth in the third. The next tournament is in April."
The knights are also judged on their skills at arms.
This consists of three mounted skills - striking a man-shaped target called a Quintaine, collecting small rings with the lance while riding at speed and spearing items off the ground from your steed.
They are also tested on their swordsmanship. They are marked for their accuracy in slicing two targets.