Ceredigion golf club victim locked up for days, court hears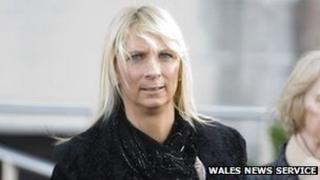 A woman who battered her boyfriend unconscious in his sleep with a golf club and locked him in a derelict farmhouse for days has been given a 12-month suspended jail term.
Nathan Yates, 37, suffered a fractured skull and broken nose in the attack at his home in Llanddewi Brefi, Ceredigion.
Swansea Crown Court heard writer Mr Yates, author of "Beyond Evil" about the Soham murders of Holly Wells and Jessica Chapman, was lucky to survive.
Laura Jones, from the same village, admitted grievous bodily harm.
The 45-year-old's sentence was suspended for two years and she was also placed on an 18-month supervision order and required to do 200 hours community service.
Acrimonious split
A three-year restraining order prevents her from any direct or indirect contact with Mr Yates for three years.
The court heard the incident happened in August 2010 at home after an acrimonious split in a pub that evening.
Mr Yates was battered unconscious with the golf club and in need of emergency medical help.
But, instead of taking him to hospital, Jones drove him to a derelict farmhouse near Lampeter the following day, laying him on the cold stone floor.
Jones left him with a packet of crisps and a bottle of whisky before tying the farmhouse door with garden twine.
The court heard Jones returned over two days with hot meals for the semi-conscious Mr Yates before he was rescued by his worried family.
Prosecutor Huw Rees said: "The relationship between the couple was very volatile, when she was drunk Jones could turn into a nasty person."
'Mental state of anxiety'
Jones was initially charged with kidnapping and detaining Mr Yates against his will, but the charge was dropped when she admitted grievous bodily harm.
The court heard the couple have had no contact since the attack in 2010.
But the judge was told Mr Yates, who is a former journalist with the Daily Mirror and Cambrian News, was left in a "mental state of anxiety".
Dyfed Thomas, defending, said: "The couple had a very strong relationship and strong feelings for each other.
"But they were drinking too much at the time - her father's death had a significant impact on her and left with medical problems."
Mr Recorder Geraint Walters told Jones: "You struck him twice on his head using a golf club.
"Whatever happened between you that night there was no justification for you to take a weapon such as a golf club and strike him in the face with it.
"He suffered a a fractured skull and a broken nose - it was purely luck that he was not more seriously injured."