Wayne Fox loses appeal after Tirion Lewis attack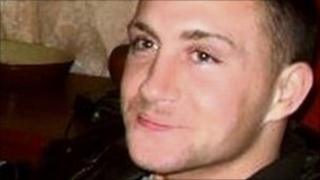 A man who kidnapped and savagely assaulted his girlfriend, leaving her in a coma, has had an appeal against his indeterminate sentence turned down.
Wayne Fox, 24, of Bow Street, near Aberystwyth, was convicted of grievous bodily harm with intent for the attack on Tirion Lewis.
Fox was given an indeterminate sentence by Judge John Diehl QC at Swansea Crown Court in March.
Ms Lewis's best friend Miriam Evans was also attacked by Fox.
Fox suffered "command hallucinations" in which he believed the devil was telling him to attack Ms Lewis, who was a 19-year-old student.
He was handed imprisonment for public protection, which is almost identical to a life sentence, at Swansea Crown Court.
He was cleared of attempted murder, but convicted of causing grievous bodily harm with intent and burglary.
Fox had admitted kidnap, aggravated vehicle taking, two counts of dangerous driving and assault causing actual bodily harm.
Smashing his fist
The judge ordered that Fox should be treated in a psychiatric unit, but that the Parole Board should ultimately decide when he was no longer a danger to the public.
At London's Criminal Appeal Court, his lawyers argued that he should have been given a hospital order instead, which would see a mental health tribunal decide his release date.
But his appeal was dismissed by Mr Justice Lindblom, sitting with Lord Justice Davis and Mr Justice Griffith Williams, who said that Judge Diehl was entitled to find Fox was a danger to society and impose the "hybrid" sentence.
The attack happened on 1, September 2009. Ms Lewis was listening to music in her Ford Ka outside her home in Penrhyncoch, near Aberystwyth, with her friend Ms Evans, shortly before midnight, when Fox stormed up to the car and started talking "nonsense".
The court was told that Fox then sat on the pavement and started to cry, before smashing his fist through the window and driving them to a secluded woodland nearby.
He then dragged Ms Lewis out of the car and rained blows upon her until she lost consciousness, attacking Ms Evans as she tried to help her friend.
The attack lasted for about 30 minutes after which Fox sped off in the car and Miss Evans ran to a nearby house to get help.
Ms Lewis sustained horrific injuries in the attack and Mr Justice Lindblom told the court she was lucky to have survived long enough to reach hospital.