New Year Honours: Anti-terror adviser Lord Carlile's CBE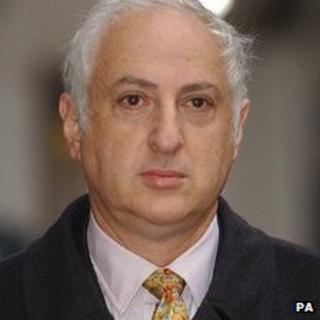 Former Welsh Liberal Democrat leader Lord Carlile of Berriew is among those receiving honours in 2012.
He becomes a CBE in the Queen's New Year Honours list.
The former MP for Montgomeryshire has spent the past 10 years advising UK governments on anti-terrorism legislation.
He is among four mid Wales individuals named, with MBEs for composer John Metcalf and the National Library of Wales' Julian Thomas.
The honour for Alex Carlile comes after his elevation to the House of Lords in 1999 as a life peer.
In 2001, he was appointed independent reviewer of terrorism legislation, hours before the 11 September attacks.
He held that role under both Labour and coalition governments until his decision to stand down in February 2011.
During that time, he has often been an outspoken critic of moves he viewed as undermining human rights, and was highly critical of increased police "stop and search" powers.
However, as one of the UK's leading barristers - he was made QC at just 36 - Lord Carlile has also been a strong advocate of the controversial control orders, used to restrict the movements and activities of suspects police and MI5 believe are engaged in terrorism but who cannot be brought before the courts.
"I was never looking for such a thing, but it's nice for one's work to be recognised," said the peer.
"It was challenging and I had to be conscious every single day that I was independent of the government and independent of any lobbying or special interest group.
"In my view the task was to get it right, even if that involved satisfying nobody."
Books and opera
As a lawyer, Lord Carlile defended Paul Burrell, butler to Diana, Princess of Wales, when he was acquitted of theft in 2002.
He has also remained active in a number of high profile inquiries, and in November recommended that the Roman Catholic Church should give up control of schools if it wanted to ensure that pupils would be protected from paedophile clerics.
Frances Crook, chief executive of the Howard League for Penal Reform, said: "We are proud to see Lord Carlile recognised for his work advising the government on national security.
"He has performed this difficult role while also serving as a robust and active president of the Howard League and I know he has always made great efforts to balance the demands of public protection against the rights of individuals."
Composer John Metcalf, who lives in Lampeter, Ceredigion, receives an MBE for his contribution as artistic director to the Vale of Glamorgan and Swansea Festivals, as well as his numerous operas for Welsh National Opera.
An honorary fellow at University of Wales, Trinity St David, it was his musical composition that played as the Queen signed the act that brought the Welsh assembly into existence in 1999.
Julian Thomas becomes an MBE for his work in book conservation while at the National Library of Wales in Aberystwyth.
Barbara Lawrence is also appointed an MBE for her services to her home community of Rhayader, where the retired guesthouse owner was named town citizen of the year in 2009.