Paintballing for Afghanistan training town in Brecon Beacons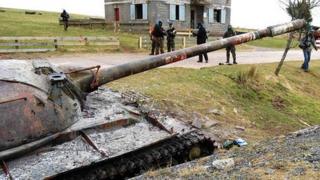 A mock town used to train British soldiers for the conflict in Afghanistan could be swapping bullets for paintballs later this year.
A huge paintball battle involving 700 players from around the world is being lined up on the Ministry of Defence (MoD) land in the Brecon Beacons.
The Bavarian-style town, on Sennybridge training range, was built during the Cold War.
It has houses, a town hall and church, and has been hired by an events firm.
The MoD says it has yet to confirm the event will go ahead.
If it does goes ahead, it would not the first time the venue has been used for a different purpose.
In 2010, it staged a production of Aeschylus's The Persians by National Theatre Wales.
Close-quarter fighting
The Bavarian-style town was built towards the end of the Cold War in the late 1980s.
It was thought that if there was a war with the Soviet Union, close-quarter fighting would happen in urban areas and on German soil.
The application for use of the venue in July has been made by an Aberystwyth-based events company.
Company spokesman Tim Barnett said the MoD started hiring out the facility following the strategic defence review.
Under the review, announced in October 2010, defence spending was set to fall by 8% over four years.
Mr Barnett, a former Territorial Army soldier who trained at Sennybridge, said: "I've been requesting to use these sorts of MoD facilities for years, but I've received no interest.
"Then, 18 months ago, I put in another request and all of a sudden everything had changed."
He said July's battle would feature 700 players from countries such as the United States, Canada, South Africa, Australia, Germany, the Netherlands, Belgium, France, Malta, Cyprus, Russia, Ireland and the UK.
He said tickets had already sold out, but he was unwilling to reveal how much it cost to hire.
"I have rented this facility from the MoD for a long weekend in July for a 700-player paintball event," Mr Barnett said.
"Players from all over the world will be flying in for the event because the location is so unique."
But the MoD said booking had not yet been confirmed.
A spokesperson said: "Training for military operations, naturally, takes priority over any private individual's request to use Defence facilities.
"We have yet to establish military training requirements at Sennybridge for July - this is conducted six months in advance - and it is possible that the facilities in question may be needed by our Armed Forces.
"Furthermore, before any third party activity is agreed, financial costs, indemnity and insurances are required. These discussions have not yet commenced."