Welshpool air crash: Police appeal for photographs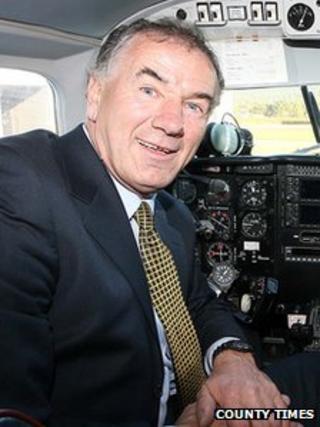 Police investigating a plane crash which killed two people are appealing for photographs that were taken in the area just beforehand.
The twin-engine aircraft came down in a field on Long Mountain, near Welshpool, on Wednesday.
People who were taking photographs in the area are asked to contact Dyfed-Powys Police.
One of the dead has been named locally as Bob Jones, founder and manager of nearby Mid Wales Airport.
The Air Accident Investigation Branch (AAIB) started on Thursday to examine the wreckage, near the village of Leighton.
Dyfed-Powys Police were called to the crash scene at about midday on Wednesday.
The alarm was raised by the airport after the twin-engine aircraft, a Piper PA31-325 Navajo, failed to return after a short flight.
Det Ch Insp Greg Williams said: "Investigations are continuing into the cause of this tragedy.
"What we're hoping for now is help from people who were in the area around Leighton on Wednesday morning.
"If anyone was taking photos around this area between 11am and 11.30am we'd like to hear from you.
"Similarly we'd like to speak with anyone who may have heard the plane fly overhead around this time."
Mr Jones, a farmer who was also an experienced pilot, built Mid Wales Airport on land near his farm.
Serving as a business airport and for general aviation, it was developed from a grass airstrip in 1990 to act as a base for companies operating aircraft in the area.
Wales Air Ambulance's mid Wales helicopter also flies out of the airport.